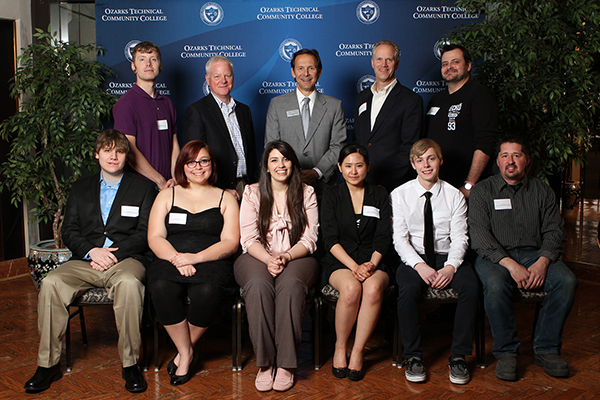 The OTC Foundation offers privately funded scholarships. To be eligible for scholarships, the student must meet the requirements as defined by the donor. To view available scholarships and their requirements, click on the List of Scholarships link below.
Prior to applying for a Foundation scholarship, all students must complete a FAFSA. For questions about your FAFSA, visit Financial Aid.
If you have any questions regarding OTC Foundation scholarships, please contact the Foundation Office at 417-447-2651 or foundation@otc.edu.
Scholarship Application Periods
Fall: March 1 – July 15
Spring: October 1 – November 30
Summer: March 1 – May 15
Scholarship Recipients
Scholarship recipients will be notified 3-4 weeks following the application deadline. The College reserves the right to notify donors of the names of recipients. An OTC Foundation Scholarship is contingent upon the recipient meeting the requirements as outlined in his/her scholarship agreement. This includes attendance at the annual Donor Reception held each April and submission of a thank you note to the donor. Failure to meet any of the requirements, will result in forfeiture of the recipient's scholarship.
Fall 2015 OTC Foundation Scholarships

The application period for fall scholarships has closed. Selected recipients were notified via their OTC email as the semester began.
Spring 2016 OTC Foundation Scholarships

The Scholarship Guide (List of Scholarships) provides details of all OTC Foundation scholarships available.
Spring 2016 CoxHealth/Mercy Communities Scholarship

To apply for this scholarship, you must meet the following qualifications:
Applicants must have a minimum GPA of 2.5.
Applicant must be a spouse, natural or legally adopted child; or step child, who has lived as a minor with the employee's immediate family for one or more years in a parent-child relationship and was claimed by the employee at Mercy or CoxHealth Systems as a dependent for federal income taxes.
Student may be full-time or part-time and enrolled in one of the following programs, or in a pre-allied health program with intent to enroll in one of the following programs:
Emergency Medical Technician (Basic and Paramedic), Medical Laboratory Technician, Occupational Therapy Assistant, Physical Therapist Assistant, Associate of Science in Nursing, Practical Nursing, Respiratory Therapist, Surgical Technology, Health Information Technology
Preference will be given to applicants who have participated as a community volunteer in a health related area or with a health related organization such as: hospitals, clinics, nursing homes or agencies (Heart, Diabetes or Cancer Societies, etc.).
Scholarship Guide
Scholarship Application Resources